Stability over time: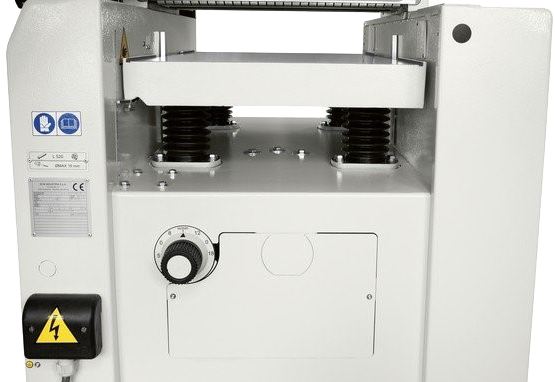 for a maximum long lasting stability the cast iron thicknessing table lifts on 4 spindles with trapezoidal threazds dust protected.
"Xylent" spiralknife cutter block with 3 series of knives
The 3 spiralknives give an exceptional finish. Reduced noise during machining provides a more comfortable working environment. It also improves the dust extraction due to the production of very small chips. Each cutter has 4 tips which can be rotated into the cutting position when worn. Therefore increasing the production life of the cutter block before knives require replacement.
Equipment & Features »
Precious Scale
Anti-Kick-Back mechanism
Smooth Wheel for Table Adjustment
Heavy Duty Roller
Standard Switch Board with Emergency Safety
With Machine (Free) »
Installation & Training
1 year servicing
Planer Blade 1 set (04 pcs)
Toolkit & Manual
Origin »