Efficient bonding system: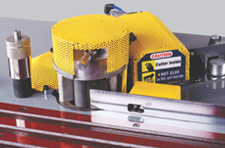 The glue in the glue pot, glue leveler, wiper, the extrusion screw and the heating element all make a bonding system..
Pneumatic cutter on the work table:
The pneumatic cutting device can be set to actuate the pneumatic cuttur to cut the band. Electronic counter can be used to cut the pre-defined length for curvilinear jobs.
Equipment & Features »
The most efficient entry-level edge-bander, the panel industry can get in this category. Do all your basic edge-banding work on it with Euro standard features like optimal and consistent glue-spreading, heat bonding and pneumatic edge-cutting.
The machine guarantees perfect glueing on board as well as on tape at all times and is versatile and suitable to be used by small and large manufacturers.
With Machine (Free) »
Installation & Training.
1 year servicing.
Toolkit & Manual.