WOODMART COLLECTIONS
FEATURED CATEGORIES
WoodMart is a powerful eCommerce theme for WordPress.
WOODEN ACCESSORIES
FEATURED PRODUCTS
Visit our shop to see amazing creations from our designers.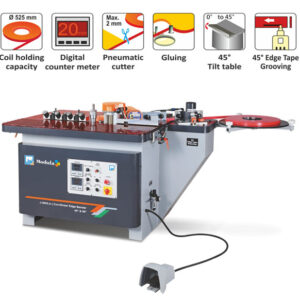 Specification:
Table size (L x B):
1150 x 900 mm
Minimum work piece length:
280 mm
Work piece thickness range:
- Inclined 45° Edge 10 - 25 mm - Full Straight Edge 10 - 50 mm
Edge banding thickness for PVC / ABS in coil form:
0.4 - 2.0 mm
Min-radius for curved edging:
20 mm
Glue pot capacity:
3 kg
Variable feed:
4 to 16 m/min.
Front table adjustment (Up & Down):
3 mm
Front table tilt angle :
0° to 45°
Maximum setting temperature:
180°
Compressed air requirement:
0.5 / 5 - 7 hp/kg/cm²
Heating element:
1.5 kw
45° Tape groove motor:
0.73 kw
Electric motor:
0.37 kw
Power supply voltage:
415V, 3Ø
Machine dimension: (L x B x H):
2150 x 1000 x 1025mm
Electric motor:
0.37 (415V, 3Ø) kw
Approx. net weight:
330 kg

ALL-IN-ONE ECOMMERCE SOLUTION
ABOUT OUR WOODMART STORE
Nec  adipiscing luctus consequat penatibus parturient massa cubilia etiam a adipiscing enigm dignissim congue egestas sapien a. Scelerisque ac non ut ac bibendum himenaeos ullamcorper justo himenaeos vel a sapien quis.
FURNITURE GUIDES
OUR LATEST NEWS
Latest trends and inspiration in interior design.
Ac haca ullamcorper donec ante habi tasse donec imperdiet eturpis varius per a augue magna hac. Nec hac et vestibulum duis a tincidunt ...
DEMO PAGES
WOODMART RTL
Full right-to-left language support.